On August 25, 2011, the CRRA Board of Directors voted to close the Garbage Museum in Stratford immediately. Thank you for your 16 years of support for the Garbage Museum and its educational programs.
The CRRA Trash Museum, located in Hartford, continues to operate. Click here for contact information.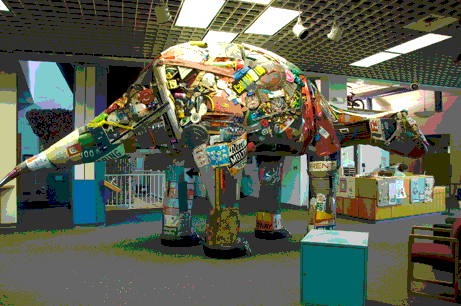 Trash-o-saurus is the main attraction at the Garbage Museum and an icon in the state's sustainability community. Trash-o-saurus is made from one ton of trash, which is about the amount each of us throws away every year. For a 300-dpi .jpg image of Trash-o-saurus, click here.
The Garbage Museum, located at 1410 Honeyspot Road Extension, Stratford, offers visitors an opportunity to meet Trash-o-saurus, a dinosaur made from a ton of trash, which is how much trash an average person throws away in a year! Guests can walk through a giant compost pile, meet resident compost worms and discover how much energy savings is derived from recycling. Watch what happens to recyclables in a "sky-box" view of the tipping and sorting process. From the mezzanine walkway, visitors can follow glass and plastic containers, cans and newspapers through the sorting process and on to the end of the line where items are crushed and baled for shipping to processors, who turn them into products. Check our hours and contact information.
According to its 2010 Book of Lists, the Garbage Museum is the 12th most popular tourism and cultural attraction in the Business New Haven area!
Would you like to join the Garbage Museum team? Here's your opportunity!
See what's new at the Garbage Museum Shop!
Have you seen this video?
DONATE
Click here for two easy ways to make your tax-deductible contribution to the Garbage Museum.
Facebookers! Like the Garbage Museum!
Get the facts about the future of the Garbage Museum.
Families in Orange, Conn., held a neighborhood yard sale to benefit the Garbage Museum!
A group of East Haven High School students made this short documentary called "Trash-o-saurus in Trouble." It was selected best documentary at the 2009 Connecticut Student Film Festival.
A six-year-old Wilton boy donated his birthday money to the Garbage Museum.
And here we are on the Travel Channel!
CRRA's Paul Nonnenmacher appeared before the Milford Board of Aldermen asking the City to help the Garbage Museum. After a lengthy debate, the Board of Aldermen agreed to support the Museum. (Video from the New Haven Register)